A Hybrid Training Experiment
After more than 2 years exclusively running virtual trainings, in the past year we've ventured back out into the world where things are three-dimensional, you get a lot less eye strain, and if you work in substance use recovery, you can connect with like-minded people in a setting that is totally focused on learning how to help people better. Just this month, Dr. Jarell Myers spoke in a classroom of medical chaplaincy students at the Jewish Theological Seminary at Columbia; Dr. Myers and Dr. Ken Carpenter both led a full 2-day workshop for peer recovery specialists through New Jersey Prevention Network, a valued partner of ours; and Dr. Rachel Proujansky drove out to Chautauqua County, NY, to close out 9 whole weeks of hybrid training for local mental health professionals.
Steve Kilburn of the Chautauqua County Dept. of Mental Hygiene wanted to ensure he could train as many addiction and mental health professionals in Chautauqua County as possible, and we got creative to do so. We spread our complete 17-hour training package over 9 weeks of 2-hour sessions to make it fit into people's schedules, and we launched and closed out the series with in-person lunch-and-learns to stir excitement and emphasize connection. Rachel reported back, "Folks were very participatory and thoughtful about how to bring this to their community."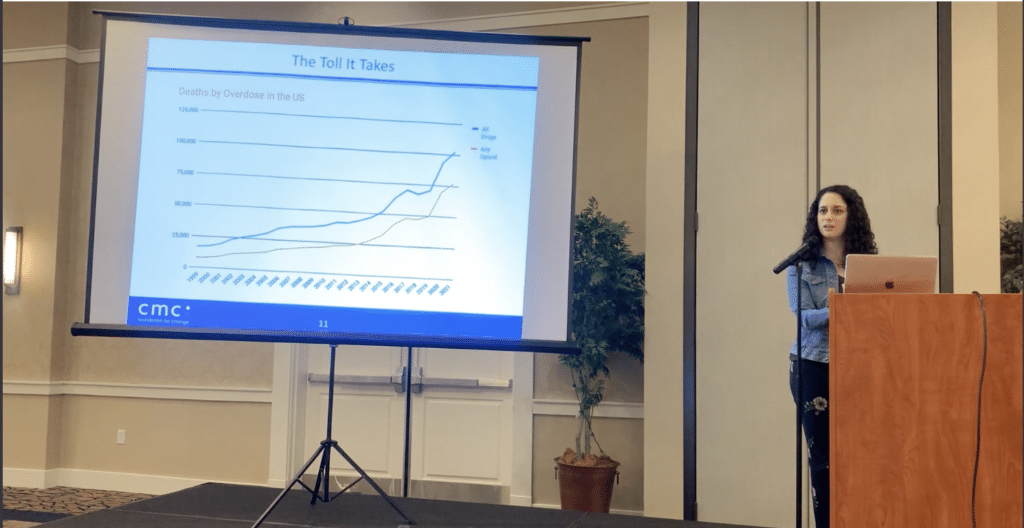 We also increased accessibility with an interesting idea suggested by Steve Kilburn: facilitated re-run sessions. Training Coordinator Amy Milin hosted live Zoom sessions based on recordings of Rachel's workshop sessions, pausing at exercises so that attendees could still engage in break-out room activities and discussions. With this unique set-up, we ended up with about 60 local people in the addiction and mental health space attending the training, and gave out 50 certificates of completion.
With the hybrid training and facilitated re-run sessions, our collaboration with Chautauqua County turned out to be yet another exciting experiment in adapting the ITC and our workshop to different needs, finding ever shifting and expanding ways to make sure vital, life-changing information gets out there and into the treatment world. We're grateful to the Chautauqua County government for trusting us with this venture, and for the opportunity to engage such wonderful, dedicated professionals in serious and ongoing dialogues about compassionate, effective methods for helping families navigate difficult substance use problems in loved ones.